When you think of Michelle Mone you think of determination. A self-made businesswoman who left school at 15 with no qualifications, she's the poster girl for female entrepreneurship. Despite early hardships and with few options open to her Michelle created a successful business empire that planted her firmly on the world stage. She has 17 personal invention patents to her name, is an in-demand public speaker and manages a broad business portfolio.
Known for conceiving and founding the Ultimo underwear brand Michelle has faced some well-publicised challenges in both her private and work life. But that famous determination ensured she kept bouncing back.
In 2010 she was awarded an OBE by Her Majesty the Queen for her outstanding contribution to business and in 2015 she was appointed the Start-Up Business Tsar by Prime Minister David Cameron, tasked with boosting small businesses in deprived areas of Britain. A year later she was named a life peer and entered the House of Lords as Baroness Mone of Mayfair, she regularly attends and campaigns to empower other women in business.
And incredibly the Baroness has still found the time to address her own health issues by losing an astonishing 8 stone in weight and resulting in a complete body transformation after years of bingeing on junk food. Now at 48, Lady Mone is in the best shape of her life, about to be married for a second time and of course still has lots of new business plans to explore.
We caught up with her to discuss life, love and making it big:
Is it true you started your first business as a teenager?
No, I was actually younger than that. By the age of 10 I decided I needed to start earning so I set up a paper-round business in the East End of Glasgow. I would secure the rounds, hire local kids to do them and take a cut. I always did rounds myself but soon I had 17 teenagers working for me and that was my first job!
So you grew up in Glasgow's East End and left school at only 15, how did you go from that to becoming a successful business woman?
I just had a dream, plenty of determination and a can-do attitude. I rapped on every single door and asked them to give me a chance. It worked. Throughout my entire career, people have told me that I couldn't be successful: "You can't be a success without qualifications, you can't build a business with no degree, you can't become a Baroness". Well, they were all wrong.
Did you have any experience of working with bras before setting up Ultimo, a brand new lingerie brand?
No, I had no experience whatsoever. I had the idea when I went to a dinner dance and was wearing a very uncomfortable cleavage bra. I couldn't believe that women still had to put up with that so I started thinking about how to make it better. I had no experience but I had my mind and a pair of boobs and made it work. It became massively successful.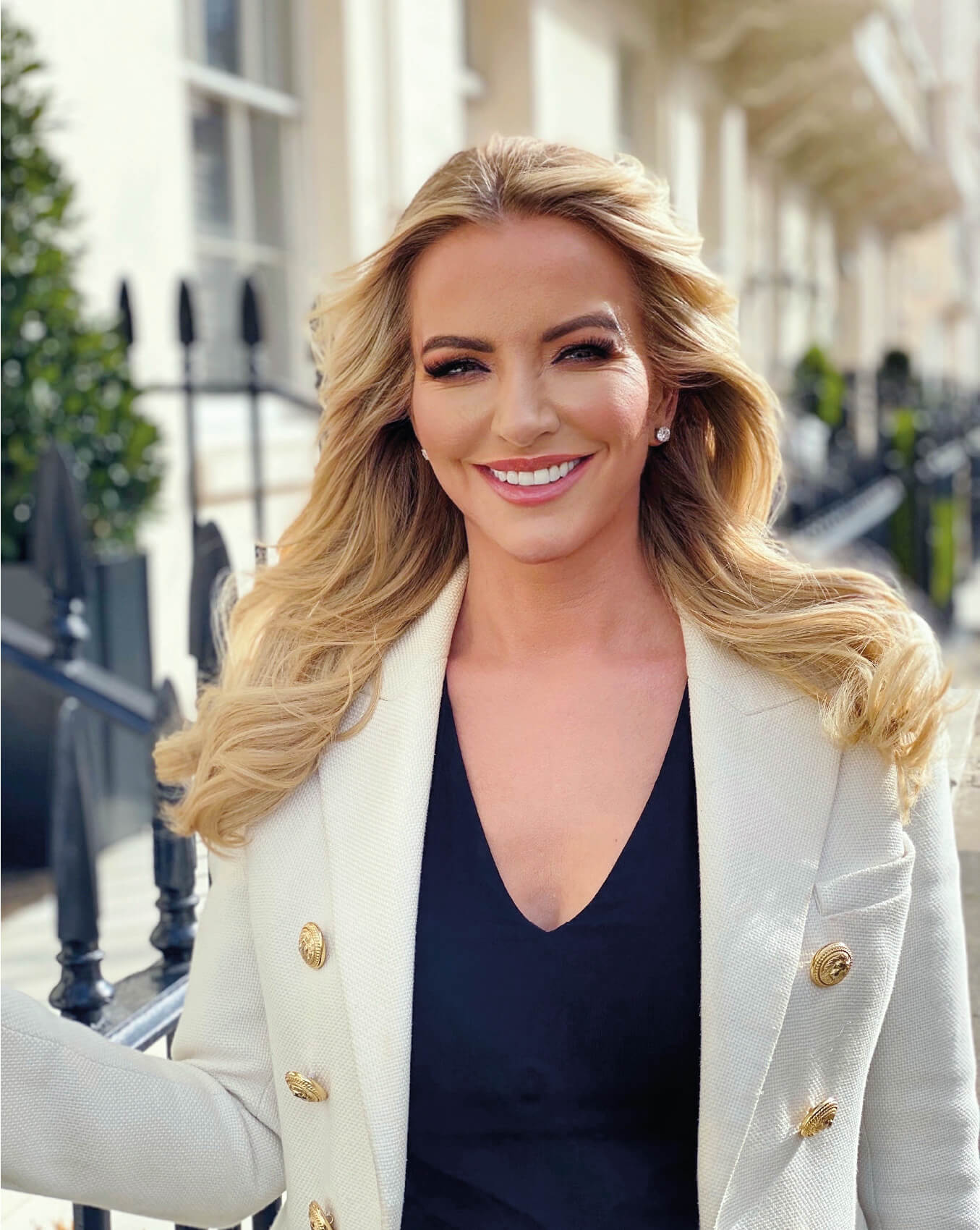 You're obviously driven, do you think this has helped you with your incredible body transformation?
Yes, I suppose I spent so much time and energy on concentrating on my businesses, it meant that I always came last. I met the supermodel Rachel Hunter on an underwear shoot and she suggested that I treated my body like another one of my businesses, I understood that and created a plan based around food and fitness. And it worked because I was focussing on myself for a change.
Now, after my parents, my kids and Doug my fiancé I come first. I make time to focus on myself every day, I work out and eat healthily, but treat myself too.
Will all of this new knowledge and experience about health, diet and fitness possibly influence a future business?
Yes, probably, because I have so many people asking me what the secret is. I've started to work with experts in fitness, formulas and food to really learn about how to keep myself in the best shape possible. So hopefully in the future, if I find the time, I can bring all of that that together and write a book and create some products that actually work. Watch this space!
How did you meet your fiancé, the billionaire businessman, Doug Barrowman?
We both invested in the same tech company and met at a shareholder's dinner almost four years ago in London. We're both competitive and share a love of fitness, he's absolutely my match.
Sadly you've had to postpone your wedding twice now due to coronavirus, how do you imagine your wedding day to be?
Our plans were finalised and we were ready to go. It's been such a shame for all couples who had to cancel, postpone or rearrange their wedding days because of COVID-19. Honestly though, we could get married tomorrow if we liked, Doug has said it is my decision he's not bothered either way, but I think it would be nice to have the big day we had planned. The current restrictions just wouldn't allow for all of our friends and family to be there and of course, that's what we want – a celebration with all of our loved ones. Hopefully, that will happen soon.
Your ceremony is due to be held in the House of Lords because you are a lifetime peer, how did it feel to be appointed the Baroness of Mayfair?
I was very proud, shocked and honoured and I think it just shows you that anyone who has determination or a can-do attitude can succeed. It doesn't matter what background you have or what money you are born into, you can always do it.
Any funny tales from those famous red benches?
Yes, I have a few. Probably my main one is the fact I didn't really know what to wear at first and received some advice on maybe covering up a bit. In fact I was called to the library and told to dress a little more demurely. But I have made some great friends there.
What do your children make of their famous and successful mother? Have they followed in your footsteps?
I really don't think they see me in that way, they just see me as their mum. We're honestly just a normal family. But yes, they are following in my footsteps, Rebecca is now a very successful entrepreneur in her own right and owner of thriving tanning brand 'Utan', Declan is the same and Bethany is setting up her own business as we speak.
You definitely seem to have embraced social media and regularly post pictures and videos, what do you like about it and what don't you?
I think social media is great because it keeps you in touch with people. Personally, it gives me the opportunity to inspire others, whether through my career and business Q&As or fitness related content.
It can be a great platform for new start-up businesses to keep in touch with their customers – especially as it is free. There was no social media when I set up Ultimo. I think you do have to be careful with your privacy and security, but I know people love it and for me, so far so good.
I've also been picked by LinkedIn to be one of their select Global Influencers, there's only around 500 of us and to be recognised alongside the likes of Oprah Winfrey, Bill Gates and Richard Branson is a real privilege.
What causes and charities do you support?
My motto has always been to work hard and play hard, but, to give something back too. I sit on various charitable committees and will always support the amazing work done by Breast Cancer Care, The Prince's Trust and my partner's own charity The Barrowman Foundation that works to help young people realise their full potential.
We know you visit Jersey, what do you like about the Island?
Yes, Doug and I have visited Jersey many, many times and we really do love it. Especially the beautiful beaches and excellent food. We would love to have a home there one day, so you never know… watch this space!